A NOTE TO THE WORLD: CANADA IS BACK!
"The Canada PADEL Federation, the National Padel Entity devoted to the development of the game of Padel in all regions of our vast Country. Our Canadian Affiliate Institutions span from the Province of British Columbia and Alberta to the West, Ontario and Quebec to the East. The resurgence of the game we love has started in Canada, and it's not going to stop any time soon. We are proud of being part of this big movement, indeed an exciting time for Canadian PADEL.
Canada was a proud host of the 2008 World Padel Championships in Calgary, Alberta, where our Canadian Women's Team achieved an unprecedented 5th place overall.
Ever since our fantastic third place showing at the 2009 World Junior Championships led by Canada's No. 1 player, Andres Stamile, Padel in Canada has suffered major setbacks, and the spark that made it shine in the World Stage way back then, started to fade away. However, we have good news!… Padel is coming back stronger than ever before, and a great future lies ahead for Canadian PADEL!"  –  Roberto Alongi, President
The Canada PADEL Federation Joins the CAPF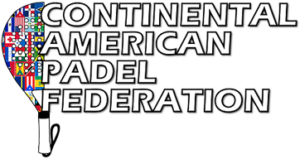 (March 3, 2021)
We are proud to be brand new members of the Continental American Padel Federation!   With this monumental step, Canadian Padel returns to the world stage in a big way! The CAPF is currently running international tournaments in America and has ties with the European Padel Federation (FEPA) and other federations around the world. View the official admission letter.
Canada's upcoming competition will be at the Fifth Annual Padel Founders CUP in Calgary, August 19 to 22. More information on tournament schedules are available on our 2021 Tournaments page. 
Watch CAPF and APT Tournament Videos
CPF meets with Mexican Consul in Calgary
(March 3, 2021)
Canada Padel Federation officials, met with Hon. Mario Morales, the Mexican Consul in Calgary.  The meeting promises a great future of collaboration between Canada and Mexico. The discussion involved padel competitions between the two countries in combination with interesting sightseeing and recreational alternatives.
Canadians to Play the APT Padel Tour

(March 3, 2021)
Canada will be busy in the world stage in 2021, after being absent from international competition since 2014.  The future looks very bright for Canadian padel players.  They can score APT Futures 200 points to take part in the APT Padel Tour, as well as a multitude of other international Padel events. See our Tournaments page for upcoming opportunities to get points. Our men's, women's and junior's prospects will continue training under the coaching of Andres Stamile and his staff. He is Canada's most accomplished Padel player and certified padel coach. Canada is ready for action! We are currently recruiting Canada wide to build our Men's, Women's and Junior's teams. More information on our National Team program and tournament schedules contact us at info@canadapadel.ca
Watch CAPF and APT Tournament Videos.
PADELStrategy and Techniques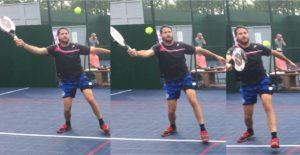 If you have no idea of what you are doing on a Padel court, then it's time to review our PADEL STRATEGY and TECHNIQUES.  We go through the basics, all the shots, and the simple strategy to follow. Please feel free to share.
CAPF Continental Seniors Championships
Stay posted for upcoming information on ths tournament to take place in November 2022.
APT TOUR 2022 PADEL FOUNDERS Cup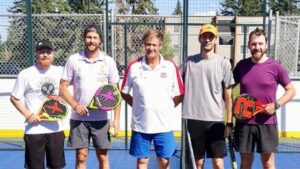 The Canada PADEL Federation is presenting the 5th annual National Padel tournament in honour of the founders of the game of Padel in Canada, The PADEL FOUNDERS CUP. will take place in the beautiful city of Calgary, from August 24 to 28.  The venue will be the CALGARY PADEL CLUB. There will be $2,000 is prices.  This Nation-wide ATP TOUR event will allow players to score ATP Tour Futures 200 Ranking points. Check out the details!
CPF Canadian PADEL
Affiliates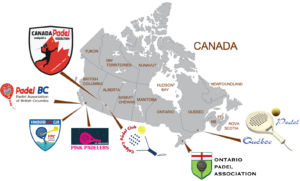 Our Canadian Affiliate Padel Institutions span from the Province of British Columbia and Alberta to the West, Ontario and Quebec to the East.  Join the CPF! Visit our Contacts page and send us a message.  We have a busy schedule for 2022, starting with the World Padel Championships in February. 
2021 Montecarlo Sports CUP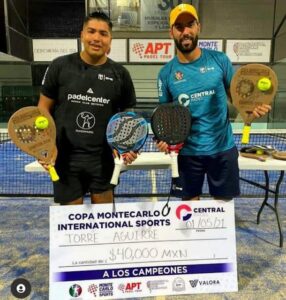 Torre/Aguirre, the winners of the 2021 Montecarlo Sports Cup played last April in Mexico. They each received USD$5,000 and 100 APT points. 
2022 World Padel Championships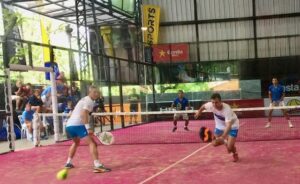 Due to the Covid situation in America and the rest of the world, the 2021 World Padel Championships has been postponed to February 2022.  It will take place in Torreon, Mexico.  We will keep you updated. In 2019, the tournament was held in Portugal. The question now is: will Canada be there?  Well… we are making preparations!
CPF SUPPORTS THE DEVELOPMENT OF THE SPORT OF PADEL
The Canada PADEL Federation strongly supports the development of the sport of PADEL locally, regionally and internationally as members of the Continental American Padel Federation and the American Padel Tour. We are working hard to develop this wonderful sport in CANADA and very soon, our country will once again return to fully support internationally sanctioned competitions.
The Canada PADEL Federation was Founded in 2013